The soul of the late fashion designer Alber Elbaz lives on at the Palais Galliera in Paris. The French capital's fashion museum is showcasing until July 10 an incredible assortment of dresses designed in Elbaz's honor by 46 of the world's most famous designers. These include Jean-Paul Gaultier, Rick Owens and Stella McCartney. The striking outfits were presented in a spare-no-expense fashion show on Oct. 5, 2021, that closed Paris Fashion Week.

It was attended by everyone who was anyone in fashion. Even Brigitte Macron was there, sitting next to Richemont CEO Jérome Lambert. Elbaz, remembered as the designer who resuscitated Lanvin, died of Covid-19 in April 2021, three months after launching his new brand AZ Factory, which is backed by Richemont.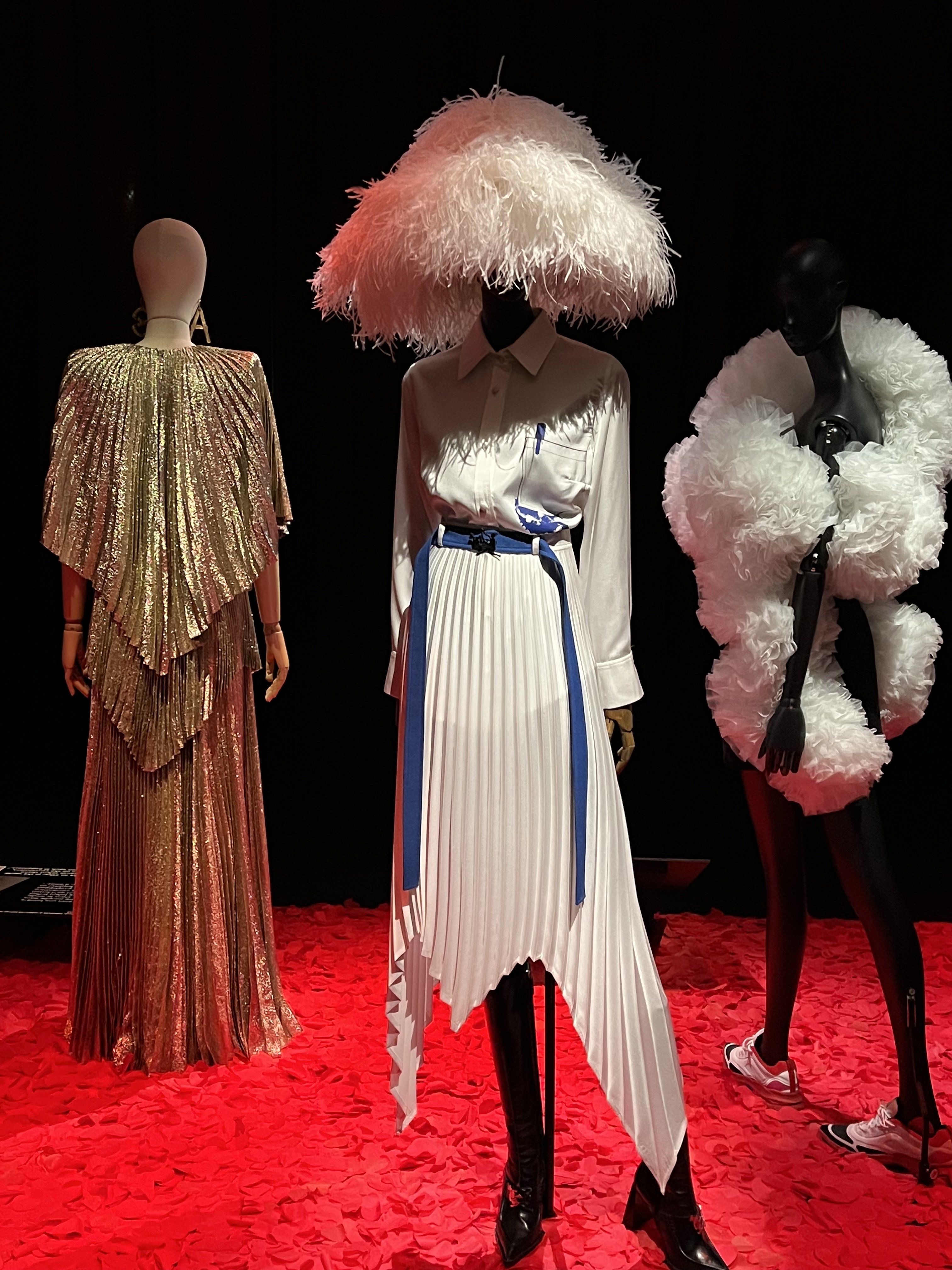 From left to right: Dress by Stella McCartney, Thebe Magugu and Tomo Koizumi

The impressive collection "Love brings Love," one of Elbaz's mantras, expresses neatly the communal spirit the designers built around this one-of-a-kind project in the 16th arrondissement museum. Elbaz was constantly open to new ideas, interested in others and enjoyed discovering alternative ways of seeing life. He was probably the only designer who had the talent and humanity to bring together what Yves Saint Laurent called before him "the family that is fashion." As Miss Tweed reported when the designer passed away, Elbaz brought out the best in designers, even those who were more into rivalry than comradery.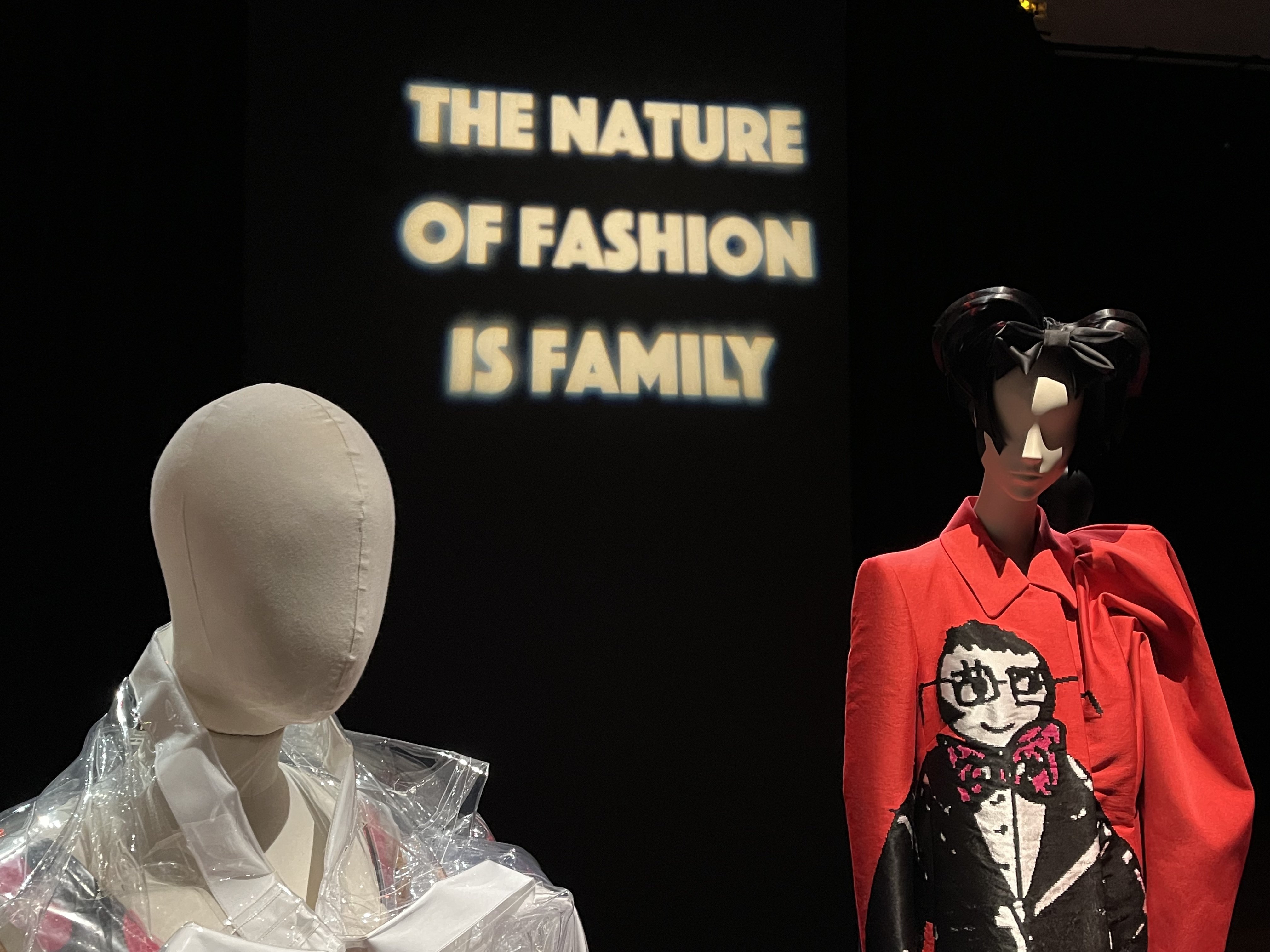 Nearly every designer had a kind word to say about Elbaz. Visitors can read their comments printed next to the dress showcased at the exhibition. For Stella McCartney, Elbaz "was a light like no other in the world." Giorgio Armani found he brought "joyful touches" to glamor. "He was the most unselfish human being I have ever met," Valentino's Pierpaolo Piccioli said. And the eulogies go on…
The exhibition at Palais Galliera recreates the show by immersing visitors in the full runway experience, reproducing the order on the catwalk, the effects, music and lights. The designers created looks inspired by Elbaz' impressive legacy: flowing dresses with long trains, short dresses with ruffles or big bows, dresses printed with drawings and portraits of Alber. Whether they were established or emerging, creative director of a heritage maison or head of their own brand, each designer came up with a perspective on fashion design, its questionings and its take on contemporary issues such as the environment, diversity, and gender.
The exhibition keeps Elbaz' start-up AZ Factory in the limelight. When it was launched, AZ Factory aimed to be a democratic, inclusive and technology-driven brand that promised to rewrite the codes of fashion. AZ Factory is now doing its best to stay in the news and keeps releasing new designs. Earlier this year, the brand tapped South Africa's Thebe Magugu as it first guest designer. Magugu, who won the LVMH fashion prize in 2019, is known for his authentic voice and natural sense of elegance. It was time someone infused new life into AZ Factory.
Many still have in mind the beautiful white ensemble with a huge white feather hat that Magugu created for the tribute to Elbaz in October last year. That dress now features on the poster advertising the exhibition that recreates the collaborative show by 46 designers. The exhibition runs only a few more weeks. Don't miss it.
(Photos by Astrid Wendlandt)