"Luxury at the Summit" April 1 to 3, 2023, Val d'Isère, France
Leadership in the luxury industry: How to federate, inspire and prosper in an increasingly unstable and complex world?
What better place than Val d'Isère, at 1850 meters above sea level, to take a step back and think about what luxury will mean tomorrow? Since the pandemic, the world has been lurching from one crisis to the next, whether in international relations, global finance or energy markets.
It will take a strong captain, man or woman, to lead a fashion or luxury brand through the storm. It is only those leaders who have earned the trust of their teams and found ways to empower them who will help the company emerge stronger and more successful than ever before. There are no secret recipes. But taking the time to reflect can be a good start to map out your own path to success.
In Val d'Isère, we exchanged ideas with exceptional leaders. These included Anthony Ledru, CEO of Tiffany & Co,Max Bitter and Fanny Moizant, CEO and co-founder of Vestiaire Collective, Tirath Kamdar, general manager of luxury at eBay as well Mauro di Roberto, head of jewelry at Bulgari, and Marco Tosi, head of operations at the luxury shoemaker Christian Louboutin.
We also reached outside the industry for different perspectives. We had the privilege of listening to Admiral Loïc Finaz, former commander of nuclear submarines and head of France's War School, and Sylvain Tesson, one of France's most influential writers and free spirits. We also learned a lot about China from Jonathan Siboni, CEO of the data analysis firm Luxurynsight, and about luxury's complex supply chain from the AlixPartners duo Thomas Trevesaigues and Olivier Salomon.
Everything was off the record. No other media than Miss Tweed was present. We did not meet to make headlines but to exchange freely, to widen our network and, above all, to have a memorable weekend. Skiing in the morning, conferences in the afternoon and partying at night proved to be a great formula. Participation at the summit was reserved exclusively to Miss Tweed subscribers. That way we formed a homogenous group of independent like-minded people.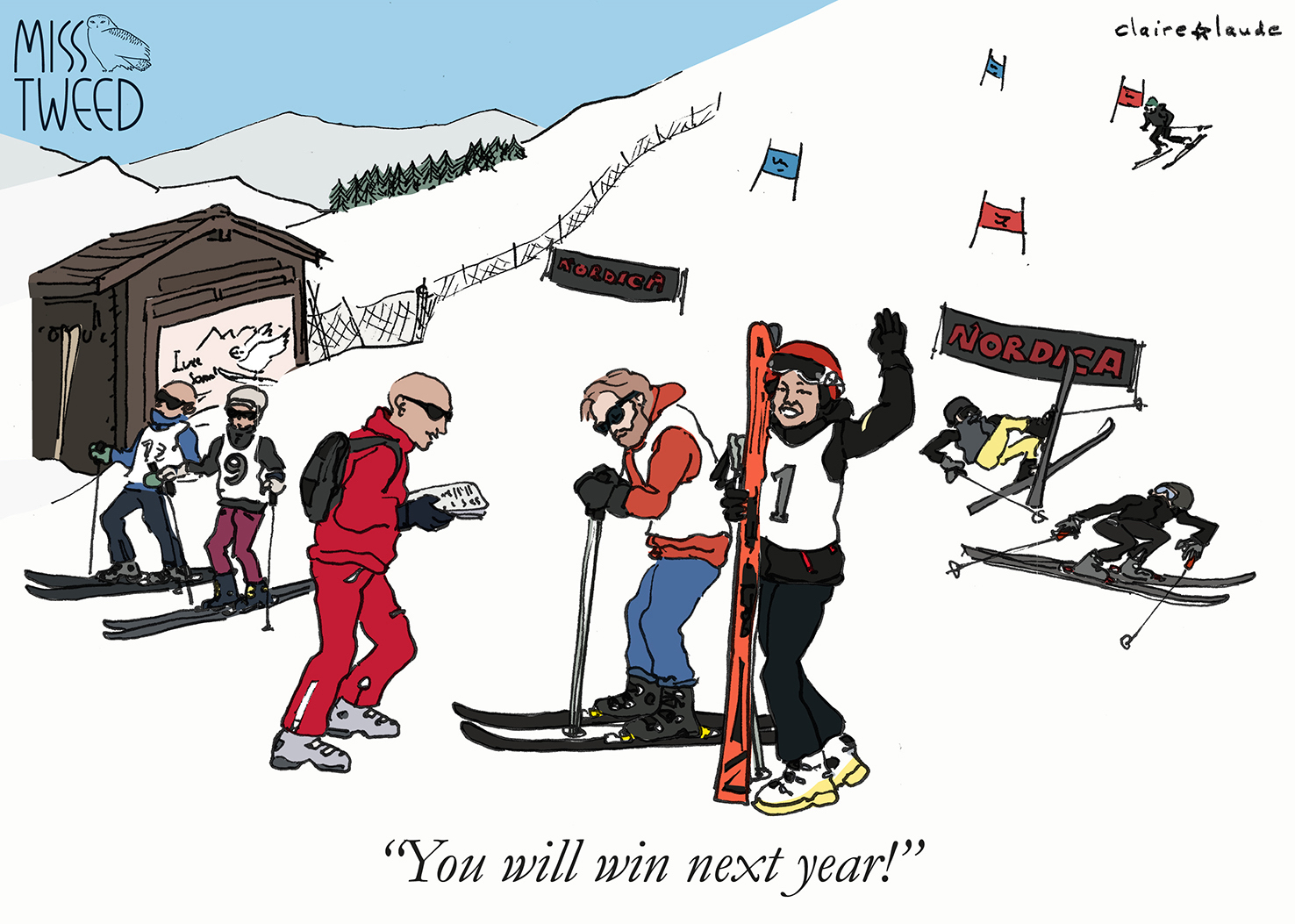 The giant slalom ski race for the Miss Tweed Cup created a genuine esprit de corps. It was a new experience for many participants. Winners won an engraved trophy from Tiffany & Co, a magnum of champagne from Champagne Barons de Rothschild and a sweater provided by Skidress. That brand of chic après-ski clothes was founded by Charles Diebold, one of the creators of the Val d'Isère ski resort in the 1950s.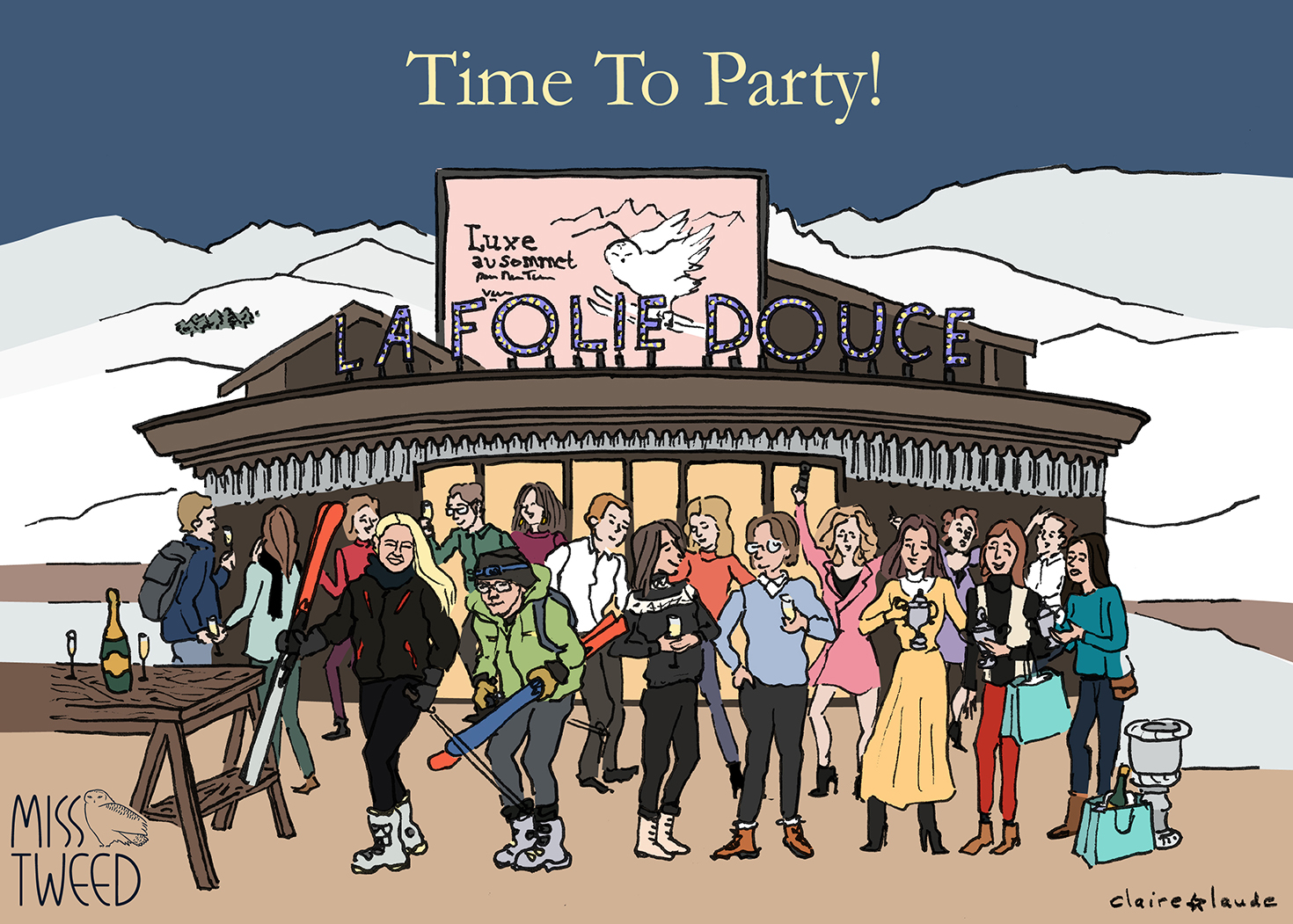 We concluded our "Luxury at the Summit" by privatizing the Folie Douce complex at the top of the mountain. The gondola lifts were opened only for our group. There were lots of fun (and thankfully short) speeches for the Miss Tweed Cup trophy award ceremony, which was followed by a lively cabaret show at La Cucùcina restaurant. In the closing hours, we danced on the restaurant's long wooden tables and the party continued at La Baraque bar in Val d'Isère.
Conferences by our speakers are summarized below:
Anthony Ledru: The dark sides and the bright sides of leadership
The 50-year-old executive shared with us his thoughts about the dark sides and the bright sides of leadership: loneliness, doubt, but also the gift of self and the creation of a collective force. He discussed his salutary mistakes, the challenges facing leaders today and how to communicate with the younger generations.
Admiral Loïc Finaz: How the crew spirit can help reform oversized egos
Admiral Loïc Finaz believes that there are two types of leaders: men of power and men of command. Most men dream of being men of power and will never be men of command. For him, the crew spirit should guide any venture that unites men and women around a common goal and mission. The admiral believes that in a world ruled by the law of the strongest, the search for performance is more easily obtained thanks to the development of the crew spirit than through aggressivity and a focus on spreadsheets and numbers. Finding the right balance between vertical and horizontal organization, between the search for excellence and a well-wishing spirit and developing autonomy and solidarity among teams offer some of the keys to success.
A video recording of Admiral Finaz's conference was sent to Miss Tweed subscribers.
Sylvain Tesson: No authority without legitimacy
The great figures of history knew how to lead the crowds by drawing legitimacy from their own attributes. Technical competence, absolute beauty, physical strength, oratorical genius or political skill led to the principle of authority. Ideally, the most virtuous and visionary people imposed themselves at the head of an empire. On a desert island, one of the castaways stood out because the others recognized in him or her a quality necessary to the survival of the group. In both cases, the mechanics were the same: natural authority fed by genius led to leadership. The post-modern era has upset this equation, distrusting the principle of distinctions between individuals and believing in the mirage that is equality. Sylvain Tesson described new ways to obtain the commanding reins.
A video recording of Sylvain Tesson's conference was sent to Miss Tweed subscribers.
Vestiaire Collective: How to stay focused when you are growing fast?
Vestiaire Collective is a French unicorn promoting circularity at a large scale, aiming to transform the fashion industry for a more sustainable future, notably through partnerships with luxury brands. Fanny Moizant and Max Bittner explained to us how they lead the company together, split responsibilities and manage exceptional growth without losing the company's vision. This allowed Vestiaire Collective to expand globally while staying true to its mission and values.
Building luxury online: The Silicon Valley perspective
Tirath Kamdar, general manager of luxury at eBay, talked about how he was the leading the charge in the luxury market, one of the main growth engines of the Silicon Valley pioneer. Kamdar discussed strategic decision making, organizational design and employee empowerment as well as what it takes to remain at the cutting edge of e-commerce in an increasingly competitive market.
Jonathan Siboni: Unlocking the Secrets of China's post-Covid luxury landscape
Jonathan Siboni accomplished the miracle of coming back from an intense three-week trip in China and arriving in time to give us his feedback for our "Luxury at the Summit." He told us that luxury houses are no longer the only players in the game. Niche brands are breaking into the Chinese market and making their mark. Also, to succeed in China's ecosystem, coherent coordination between HQ and the retail team is crucial.
A video of Jonathan Siboni's conference was sent to Miss Tweed subscribers.
AlixPartners: Leadership in luxury supply chains
With sustained growth in the luxury sector and regional shifts in demand, supply chains have become increasingly complex and critical to the success of fashion and luxury brands. Access to craftsmanship and the opportunity to better control capacity, succession risk and financial stability have led many groups to integrate vertically in the past 10 years. Thomas Trevesaigues and Olivier Salomon, from AlixPartners, outlined key trends and changes in the luxury industry's supply chains and what actions can be taken in response. They interviewed Mauro di Roberto, head of jewelry at Bulgari, and Marco Tosi, head of operations at the luxury shoemaker Christian Louboutin, who explained how they built state-of-the-art supply chains and gave us their expectations for the future.
Below is a list of the lucky ones who were present:
Anthony Ledru, CEO of Tiffany & Co, Tirath Kamdar, global general manager for luxury at eBay, Maximilian Bittner, CEO of Vestiaire Collective, Fanny Moizant, co-founder of Vestiaire Collective, Sandrine Deveaux, head of New Retail at Farfetch and member of the executive committee, Mauro di Roberto, head of jewelry at Bulgari, Marco Tosi, head of operations at luxury shoe maker Christian Louboutin, Jonathan Siboni, CEO of Luxurynsight, Olivier Salomon and Thomas Trevesaigues from consultancy AlixPartners, Stanislas de Quercize, strategic investor and former CEO of Cartier and Van Cleef & Arpels, Clarisse Reille, head of DEFI, the French agency that supports the fashion industry, Christophe Reille, managing partner at Vae Solis Communications,Sylvie Freund-Pickavance, head of strategy at Value Retail, Euan Rellie, managing director at BDA Partners, Sophy Rindler, Kristina Driggs and Julian Verpoorten from eBay, Pierre-François Marteau, partner at Boston Consulting Group, Bernard Gault, investor and former luxury executive, Lauren Carter, research analyst at Capital Research Global Investors, Frederik Schreve, CEO of consultancy Oktave, Alban Neveux, CEO of Advention Business Partners, Cecile Zarokian, creator of luxury perfumes, Primoz Artac, nutri-cosmetics specialist, Lou Dana, CEO of Grace, Fabienne Lupo, former chairman of the Federation de la Haute Horlogerie and Founder of Re-Luxury event dedicated to pre-loved luxury items, Fabrice Gautron, senior luxury consultant, Julien Fortuit, coach and consultant, Sylvain Tesson, adventurer and writer, Admiral Loic Finaz, former nuclear submarine commander and head of France's War School, Bérengère Dutel, International SOS, company specialized in helping corporates with handling emergency and extreme situations, Jean-Marc Bories, founder Luxury Consulting Group, Marc-Antoine Breuil, chairman of jeweler Morganne Bello, Claire Geronimi, founder of the body brand G., Isabelle Grosmaître, founder of Goodness & Co, a sustainability specialist, Philippe Pascal, former head of the watch and luxury division of LVMH and now chairman of winemaker Cellier aux Moines & son Clos in Burgundy, Bruno Martinier, CEO of fashion brand SkiDress and Andrey Terebenin, director of the photography and publishing department of the Hermitage museum in St Petersburg, Russia.