"Luxury at the Summit" April 7-10, 2022, Val d'Isère, France
The luxury industry in a post-pandemic world is one we are all building together. There will be new players, new values, new expectations and new customers. At the top of a mountain, at 2,400 meters above sea water in the French ski resort of Val d'Isère, we brought together the CEOs of Mulberry and Breitling, Bulgari's COO, executives from retail platforms Farfetch, Ebay and WatchBox and several others to discuss issues like the future of the second-hand market, China and NFTs.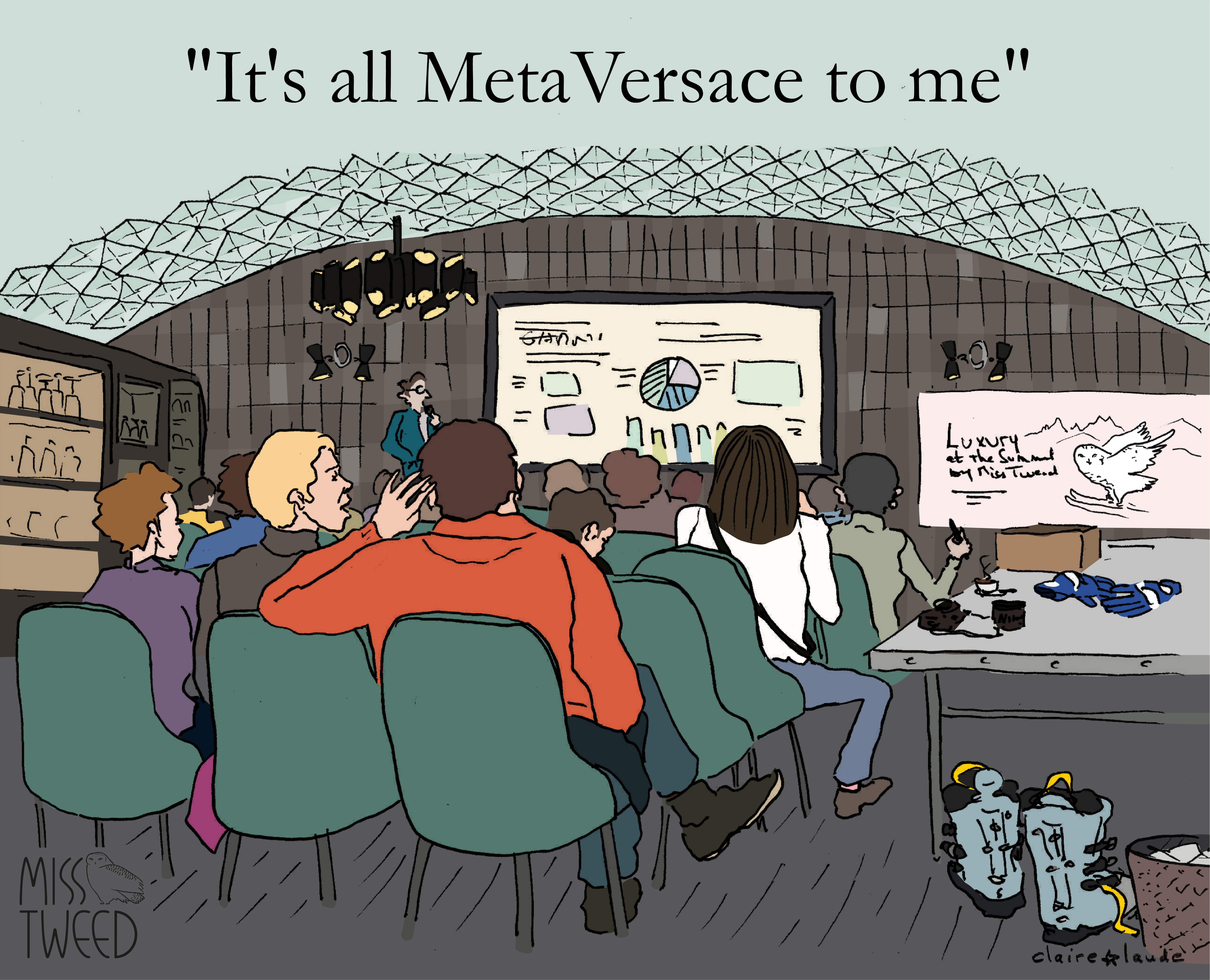 It all happened at our "Luxury at the Summit" event, which was so fun and unique many participants asked us to organize it again next year.
We reached outside the industry for different perspectives from Hubert Védrine, France's former foreign minister who sits on LVMH's board, paleoanthropologist Pascal Picq and adventurer Sylvain Tesson. Védrine helped up understand what impact Russia's invasion of Ukraine had on the geopolitics of luxury. Picq talked about our need to project ourselves into imaginary worlds such as the Metaverse and about Homo Luxus through the prism of human evolution over millions of years. Tesson highlighted the importance of intangible luxury. Among the examples from his expeditions was the time the captain of a French nuclear submarine invited him to smoke a cigar above deck before the vessel dove under the waves for many months.
Everything was off the record. No other media than Miss Tweed was present. We did not meet to make headlines but to think about the world of tomorrow, to exchange freely, to widen our network and, above all, to have a fantastic weekend. Skiing in the morning, conferences in the afternoon and partying at night proved to be a good formula. Participation at the summit was reserved exclusively to Miss Tweed subscribers. That way we formed a homogenous group of independent like-minded people.
Conférences
< >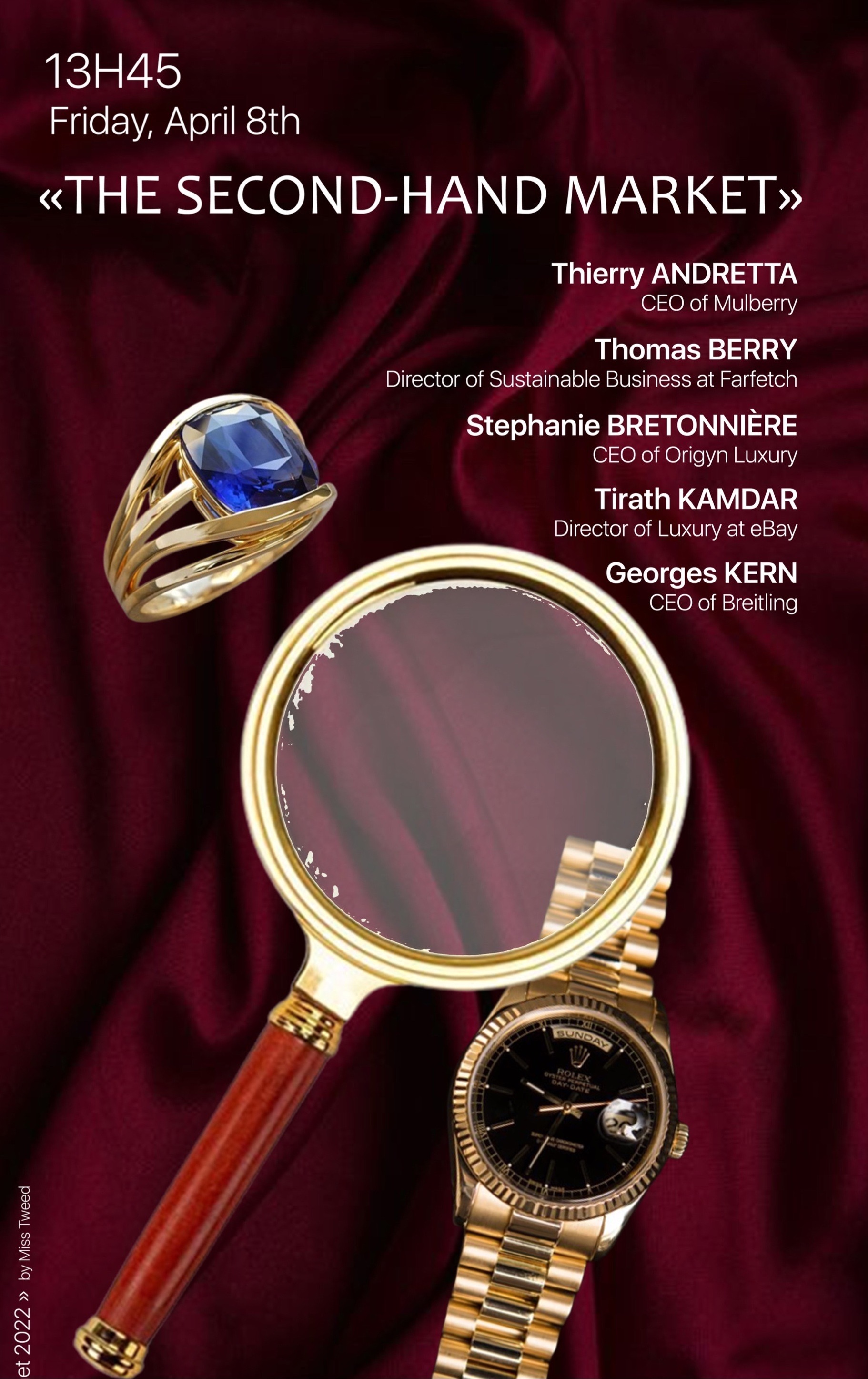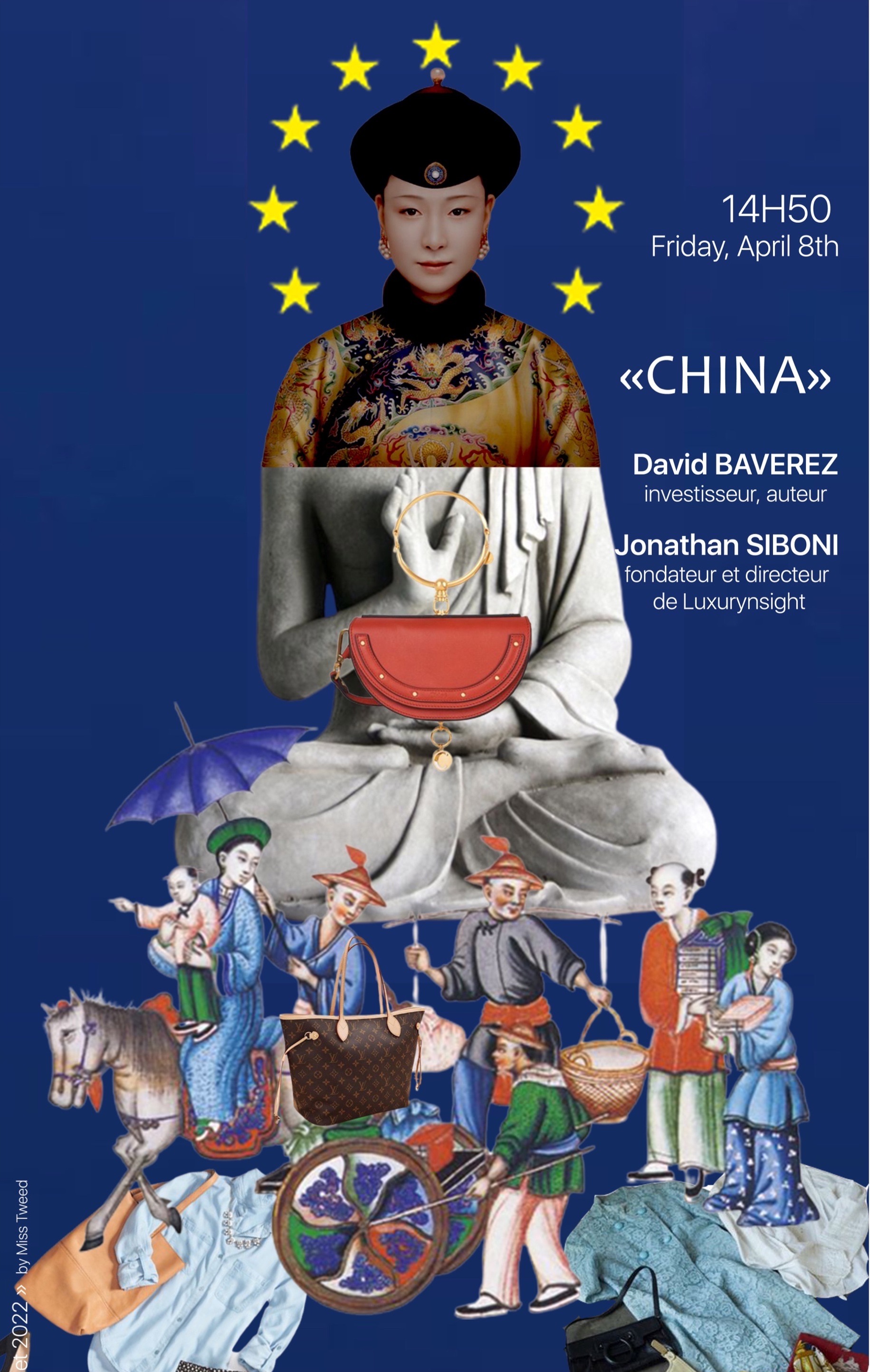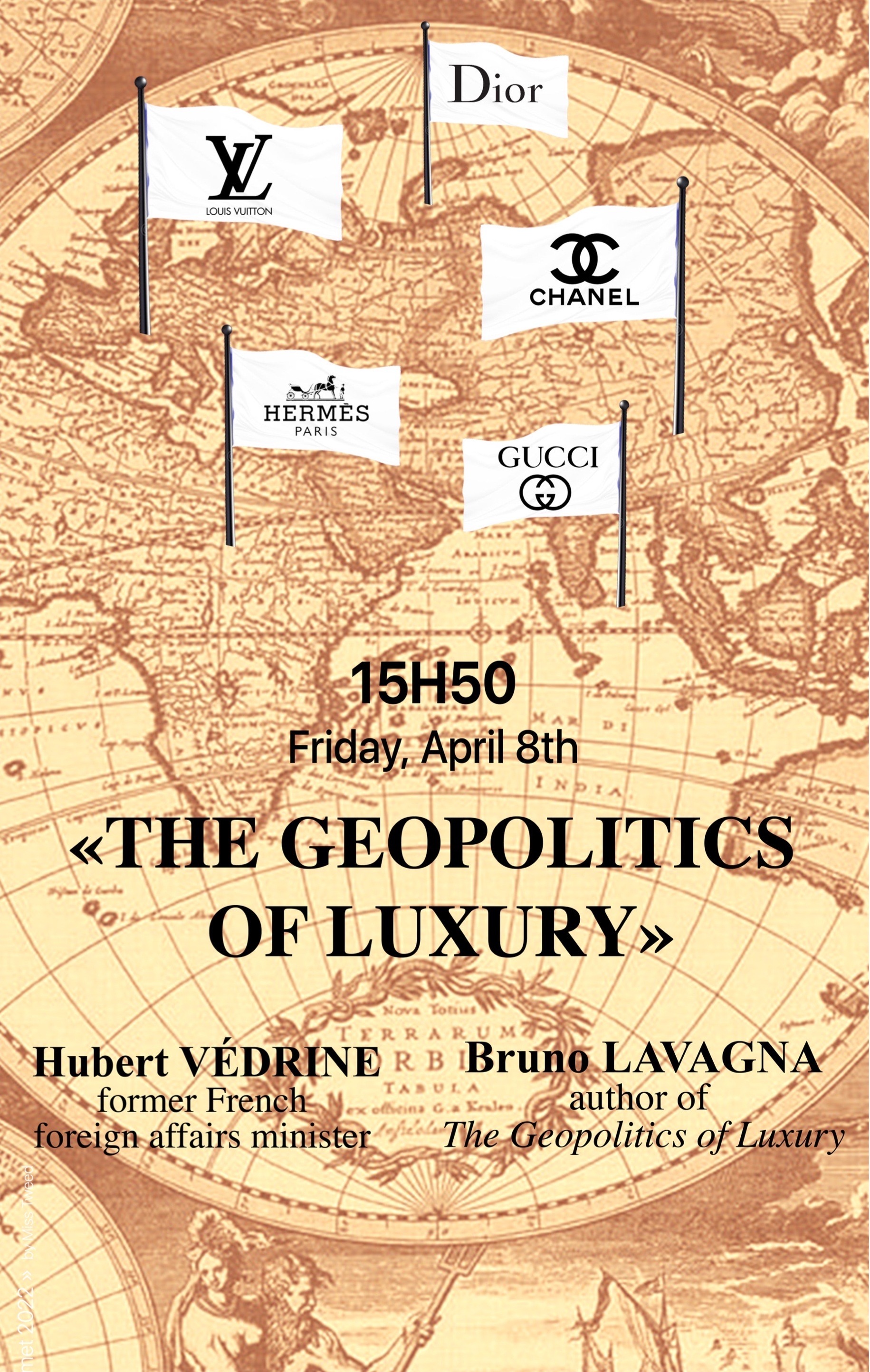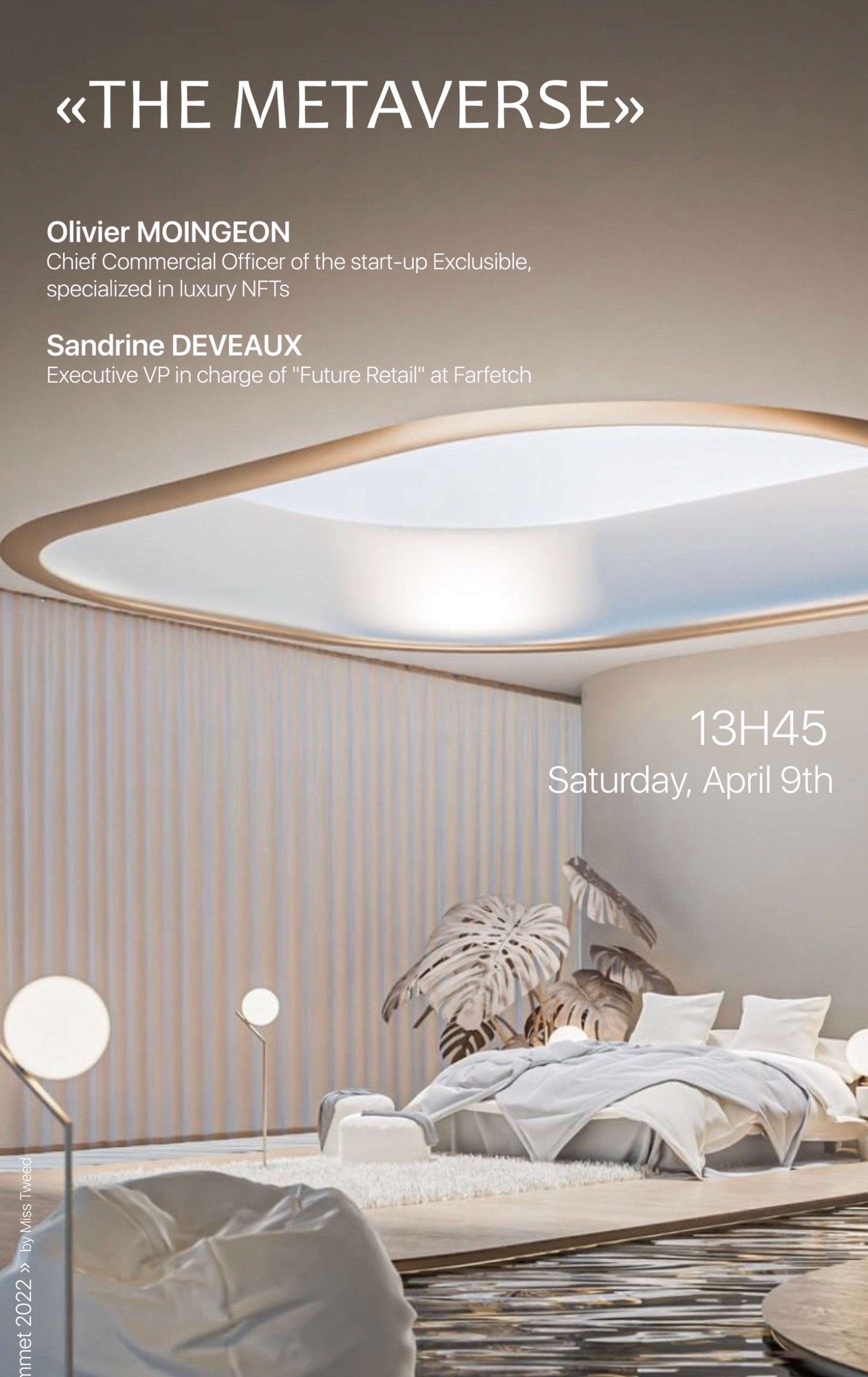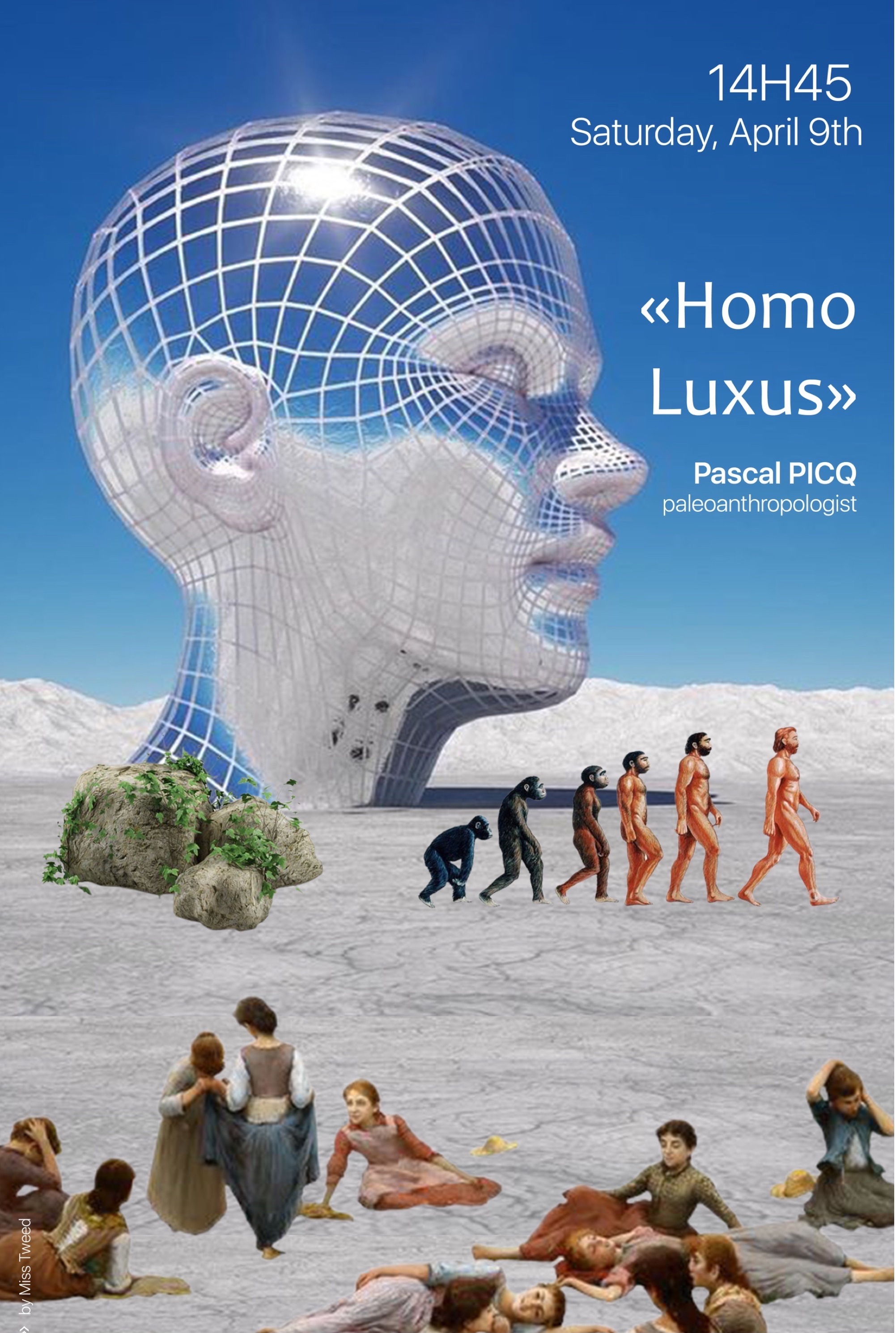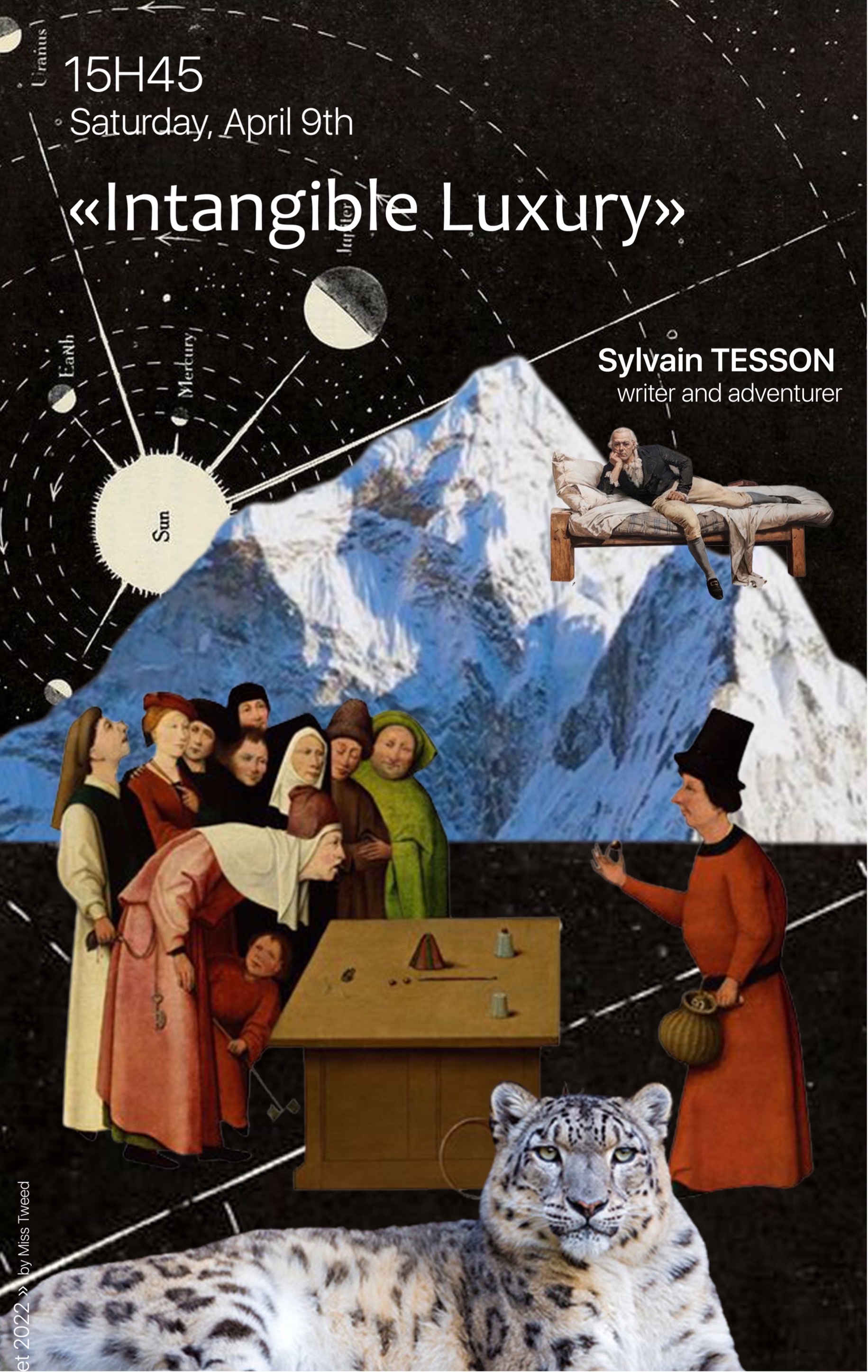 The giant slalom ski race for the Miss Tweed Cup held on Saturday morning April 9, 2022, created a genuine esprit de corps. It was a new experience for many participants. Winners won an engraved trophy offered by Tiffany & Co, a magnum of champagne offered by Champagne Barons de Rothschild and a sweater provided by Skidress. That brand of chic après-ski clothes was founded by Charles Diebold, one of the creators of the Val d'Isère ski resort in the 1950s.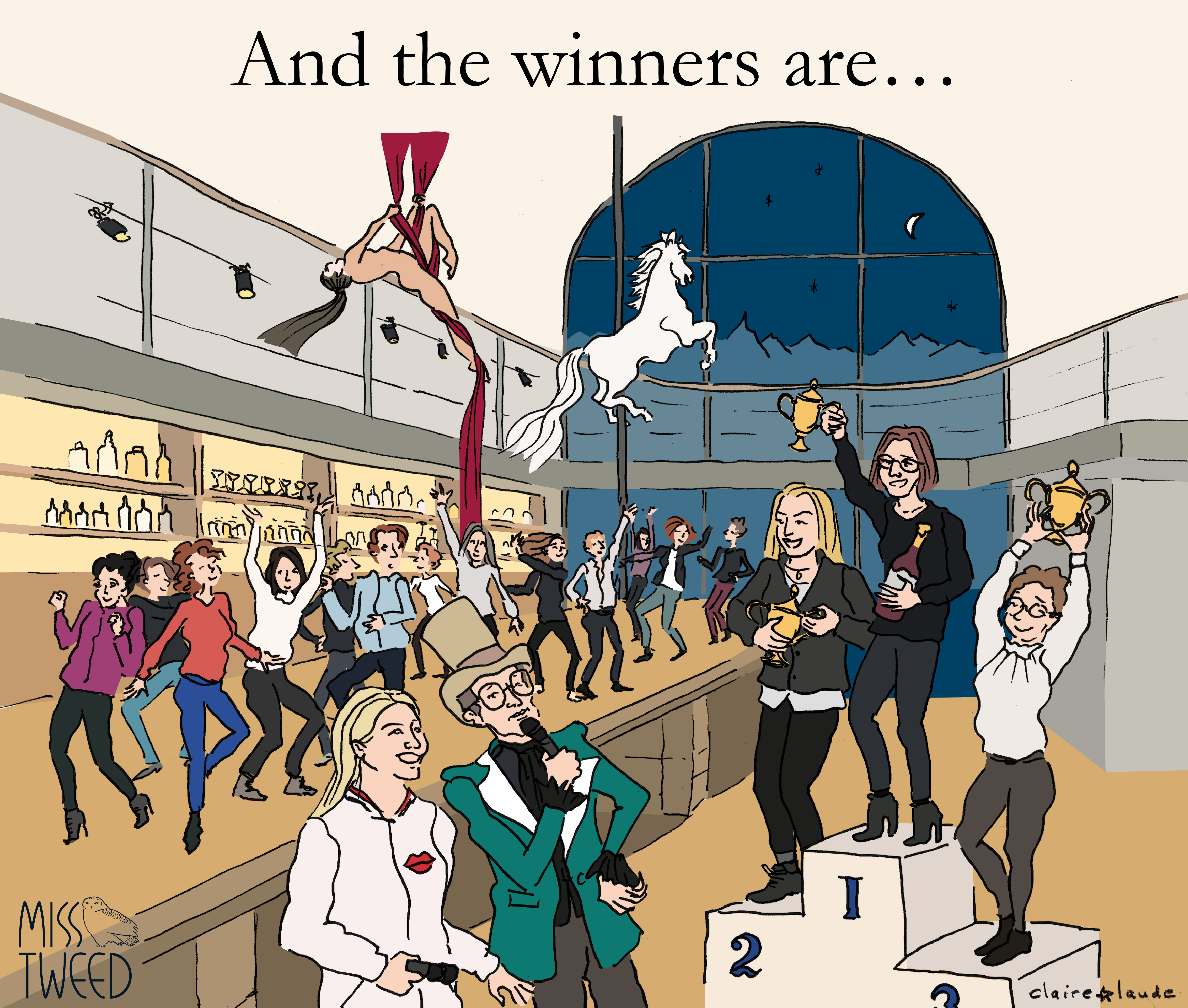 We concluded our "Luxury at the Summit" event by privatizing the Folie Douce complex at the top of the mountain for the evening on Saturday, April 9, 2022. The egg lifts were opened only for our group. They took us up at 7pm and brought us down at 11pm. There were lots of fun (and thankfully short) speeches for the Miss Tweed Cup trophy award ceremony. We admired beautiful women acrobats twisting and turning around ropes during dinner at La Cucùcina restaurant. Afterwards, we danced on the restaurant's huge, long wooden table.
It was a night to remember. Participants found it all the more special to have fun, learn things and meet new people particularly at a time when there were so many terrible things going on in the world like the war in Ukraine.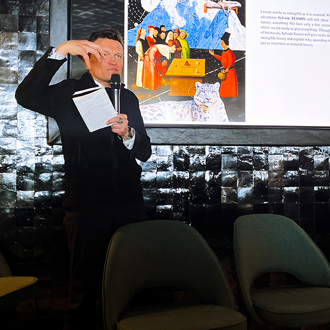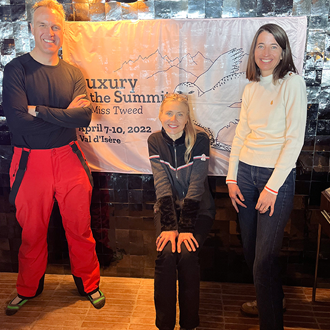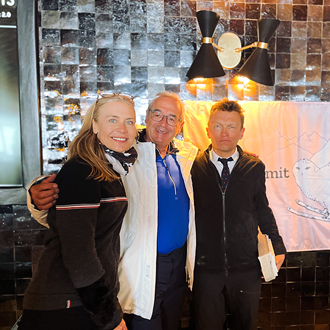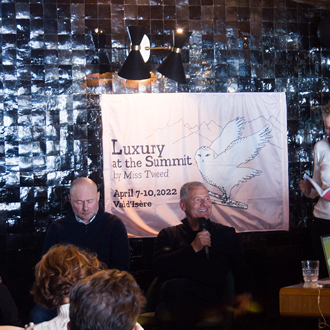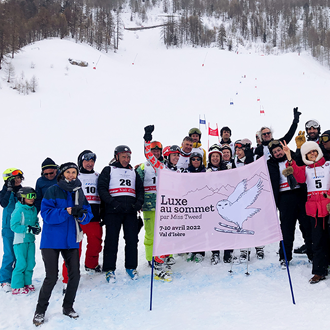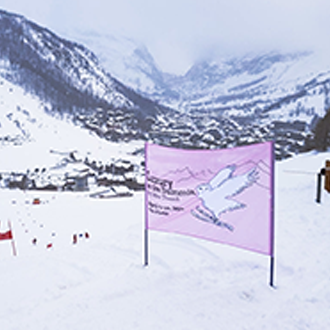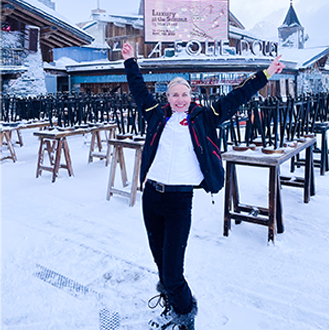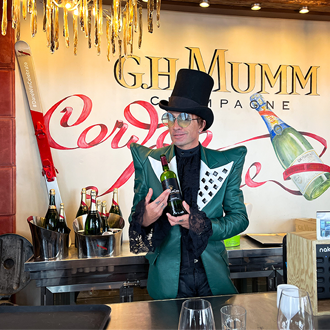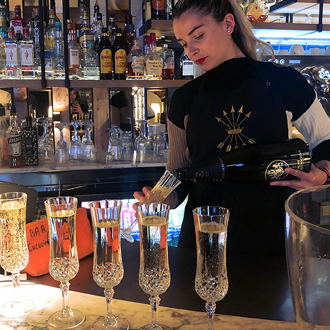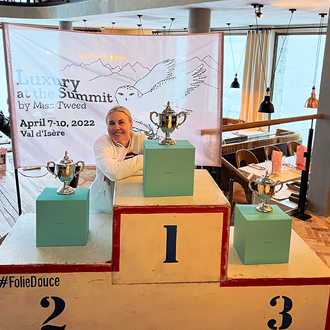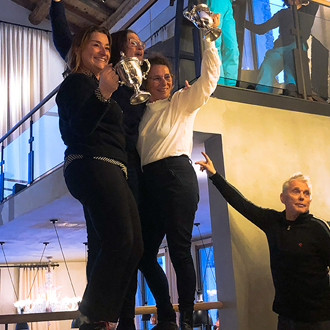 Contributions
The contributions by our speakers (with their blessings) are summarized below:
Thierry Andretta, CEO of Mulberry said emotional attachment to handbags was what stopped many people from trading in their old handbags to get credit to buy a new one. The British leather goods maker has been actively developing its lifetime repair and pre-owned programme which it regards as a key plank of its transition to a net-zero, regenerative and circular business model.
David Baverez, an investor based in Hong Kong and author of China & Europe, The Turning point, (Westphalia press, 2022), warned us that the Chinese government will want to gain indirect control of the booming luxury business through increasing influence on content/KOL, distribution, management or taxation. One key variable in the future will be transfer pricing, i.e. the price at which brands declare the value of goods entering the country, determining the localization of luxury companies' large profits from the Chinese consumers.
Thomas Berry, Senior Director of Sustainable Business at Farfetch, said the re-sell and repair operations were a core part of Farfetch's business. One of the key reasons consumers buy into pre-owned was scarcity. There are many different options for brands who are considering entering the pre-owned space - product sales, repairs, rental or re-sale services - which can be either peer-to-peer, or via consignment, or buy-upfront. "There are lots of different choices and nuances," Berry said.
Stephanie Bretonnière, CEO of Origyn Luxury, a firm that has developed unique authentication technologies for luxury goods, pointed out that the quality of counterfeited products was now very high. That made it even more difficult to differentiate them from genuine products. She said she even heard of luxury sales assistants in China selling counterfeit goods in boutiques directly operated by brands.
Sandrine Deveaux, Farfetch's Executive Vice President of "Future Retail," said "Web 3.0 is more than a new technology but a new culture, it is an ideology." She said NFTs are just an entry point for brands to consider bigger and more strategic considerations around Web 3.0: what are they trying to achieve with the virtual world: reinforcing brand positioning, creating a new customer acquisition channel, building sustainable production model or creating decentralized virtual brand.
Tirath Kamdar, eBay's managing director of luxury, said the e-commerce marketplace has "big ambitions" in luxury and is cleaning up the second-hand market by having launched the Authenticity Guarantee program in 2020. It has been implemented for watches, sneakers, handbags, and the marketplace plans to expanding this globally. Kamdar said luxury sales on eBay had been growing double digits.
Georges Kern, Breitling's CEO, said he did not want the watchmaker's second-hand stock to be sold online. He much preferred to sell it through outlets because that way, the brand could control image and pricing. On the Internet, once it is in the hands of third parties, it cannot.
Bruno Lavagna, author of La géopolitique du luxe (Ed. Eyrolles, 2021) argued that brands needed to develop their soft power abroad much more and use it to build contacts and a local customer base. Lavagna, who is also founder of the consultancy Be.Exclusive based in Monaco, said luxury brands were increasingly taking the lead as global benefactors in areas such as the environment, education and art.
Olivier Moingeon, the Chief Commercial Officer at Exclusible, a start-up specialized in luxury NFTs, said the Metaverse represented a huge opportunity for luxury brands but they were still trying to figure out their strategy. "The year 2022 is when brands will test the web3 waters. It is in 2023 that we will see heavy investments from luxury brands in Metaverse experiences and NFT projects, which are 2 sides of the same coin," Moingeon said.
Paleoanthropologist Pascal Picq called the Metaverse "a cognitive challenge." He compared it to Alice in Wonderland where you need to "run to stay in place."
Award-winning author and adventurer Sylvain Tesson differentiated between the luxury of owning things and the luxury of sensation. He said it was more difficult to do what people dream of doing than to possess a luxury object. He also drew a line between "essential luxury" and "too much of everything."
Jonathan Siboni, the founder and CEO of the intelligence data analysis company Luxurynsight, said that since luxury executives had not traveled to China for more than two years, the balance of power has changed in favor of local teams. They were now calling the shots in China, making it more necessary than ever to reinvent coordination with brands' HQ.
Hubert Védrine, France's former foreign minister now on LVMH's board, advised luxury companies to reduce their dependence on China and explore other markets in Asia and in Africa. He also said luxury companies should continue to support their staff in Russia so that they could reopen business there should the war in Ukraine end.
Below is a list of the lucky ones who were present:
Thierry Andretta, CEO of Mulberry, Arnaud Bazin, former LVMH executive and Lanvin managing director, Bernd Beetz, former Coty CEO, Chairman of eyewear brand Mykita, Stéphanie Bretonnière, CEO of Origyn Luxury, Sophie Bouhier de l'Écluse, Miss Tweed journalist, Olivier Chouvet, e-commerce serial entrepreneur, Laure de Carayon, founder of think-tanks China Connect and Asia Loopers, Nicolas de Cointet, head of projects and art books at French publisher Albin Michel, Sophie Deletraz, partner at Creative Labs Consulting, Kristina Driggs-Walkling, head of luxury watches at eBay, Sylvie Freund-Pickavance, head of stragegy at Value Retail, Isabelle Grosmaitre, CEO of Goodness & Co, Irina Gorbman, head of IG Moda, Julien Guerrier, editor Louis Vuitton Éditions, Suzanne Herni, head of marketing at WatchBox, Patrik Hoffmann, chairman of WatchBox, Tirath Kamdar, head of luxury at eBay, Georges Kern, CEO of Breitling, Claire Laude, Miss Tweed illustrator, Bruno Lavagna, author and consultant, Fabienne Lupo, former chairman of the Federation de la Haute Horlogerie and co-founder of the trade fair Re-Luxury, Paul Merz, founder of Motosacoche, Pascal Narboni, lawyer specialized in fashion designers, Richard Morgan, luxury investor and consultant, Joël Palix, investor and former CEO of Feelunique.com and Clarins perfumes, Massimo Paloni, COO of Bulgari, Pascal Picq, paleoanthropologist, Clarisse Reille, managing director of DEFI, which supports French fashion, Christophe Reille, PR adviser, Euan Rellie, managing partner at BDA Partners, Luc Reversade, owner of La Folie Douce, Sophy Rindler, head of strategic partnerships at eBay, Olivier Roux, co-founder of GL Events, Olivier Salomon, partner at AlixPartners, Jonathan Siboni, CEO of Luxurynsight, Sylvain Tesson, writer, Thibault Verdonkt, commercial director at MB&F, Christoph Wirtz, equity analyst at Rothschild & Co Weath Management.
---
Miss Tweed warmly thanks its generous sponsors :