Cartier must raise its game and solve production problems at its latest collection to defend its world No.1 jeweler position as rival Tiffany & Co intensifies competition under new future owner LVMH.
Tiffany and Cartier are the two biggest jewelry brands, with the broadest appeal, ranging from accessible to ultra-luxurious product offerings complete with a strong heritage and rich story telling.
On Nov. 25, LVMH boss Bernard Arnault announced he had signed a cheque for more than $16 billion to acquire Tiffany & Co, known for its robin's egg blue boxes and Truman Capote's novella, Breakfast at Tiffany's, which was turned into a romantic comedy film featuring actress Audrey Hepburn in 1961.
With Tiffany boosted by LVMH's ultra-competitive corporate culture, and marketing and real estate might, one senior Cartier executive, speaking on condition of anonymity, put it simply: "This is the biggest threat to us since Bulgari in 2011."
LVMH's Fred and Chaumet jewelry brands are still small, and Roman jeweler Bulgari, which the group acquired in 2011, is more high-end than Tiffany and less of a go-to brand for special occasions such as marriage proposals, particularly in America.
This week, just as the crucial pre-Christmas shopping season started to pick up, Cartier stores in Europe, including its flagships in Paris and London, had run out of several sizes and models of Cartier's new Clash collection, which features tiny spikes and pyramid studs.
Cartier said demand had been much stronger than anticipated and that the company had not been able to produce quickly enough. Customers' best bet was to order online, several shop assistants told Miss Tweed this week. Launched in April with hard-hitting social media campaigns and high-speed videos clearly aimed at millennials, Clash rapidly sold out and shops had only limited stock for months.
Clash is Cartier's first major initiative aimed at renewing its accessible jewelry offering, which for years consisted mainly of its best-selling Juste un clou, Trinity and Love lines – the brand's cash cows. Cartier itself provides the bulk of parent Richemont's profits. Geneva-based Richemont, which owns French jeweler Van Cleef & Arpels and recently purchased struggling but prestigious Italian jeweler Buccellati, has seen its profitability dented this year by losses at online retailer Yoox Net-a-porter, which it took over completely last year amid market skepticism.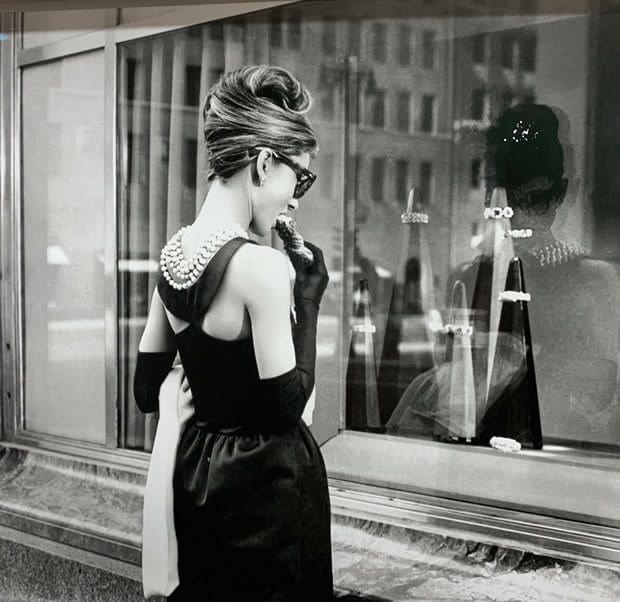 Photo of Audrey Hepburn in the 1961 film "Breakfast at Tiffany's" which is hanging on the second floor of Tiffany & Co's shop rue de la Paix in Paris
WAKE-UP CALL
Even though LVMH's acquisition of Tiffany is due to close only next year, Richemont will have to address Cartier's production issues and focus on the brand's new product release agenda if it wants to fight competition from Tiffany and retain market share. "This is a wake-up call for Richemont," said Erwan Rambourg, global co-head of consumer and retail research at HSBC in New York.
Once removed from the market's glare after it delists, Tiffany will benefit from huge investment from LVMH that will affect its bottom line in the short term but will no doubt spruce up the American jeweler's image in the longer term. Arnault is a past master at heightening a brand's desirability. He has a strong track record with Bulgari, whose sales and profitability have more than doubled since it joined the LVMH stable in 2011. Arnault will focus on making Tiffany more relevant and leveraging its history, whose highlights range from supplying American presidents to Lady Gaga's Oscar appearance this year wearing the Tiffany yellow diamond, one of the world's biggest and rarest with 128.54 carats with 82 facets.
"Although we have been highly encouraged by many of the new strategies and improving execution under new CEO Alessandro Bogliolo, [….] plugging Tiffany into a resource- and capital-rich platform such as LVMH, with extensive data, insight, and digital capabilities could significantly increase Tiffany's revenue and margin path over the next 5–10 years," consumer and luxury goods analyst Omar Saad at investment banking advisory firm Evercore ISI, in New York, wrote in a note to clients.
Like Cartier, which has annual revenue estimated at more than 5.5 billion euros, Tiffany makes the bulk of its sales from accessible jewelry lines. However, Tiffany's entry-level price points are much lower than Cartier's. One can walk out of Tiffany with a 200-euro silver-beaded bracelet with a heart-shaped charm, while at Cartier, the cheapest jewelry item will be a 560-euro Trinity cord bracelet featuring a tiny version of the three interlocking rings in different types of gold.
CHANGING MARKET DYNAMICS
Tiffany may be the luxury industry's biggest deal ever, but its value represents only 7 percent of LVMH's more than $220 billion market capitalization. Had Tiffany's shareholders and management demanded more money, Arnault would probably not have minded handing out one or two more billion dollars to secure ownership of the 182-year-old American jeweler, particularly since the group is financing the transaction with very cheap debt.
Tiffany will start contributing to LVMH's earnings from next year and more importantly it will boost the French group's weight and bargaining power in the hard luxury sector. Once Tiffany becomes integrated into LVMH, market dynamics will change. Tiffany and Bulgari together make estimated sales of more than $7 billion - around $4.5 billion and $2.5 billion respectively - which means that LVMH could become the world's biggest buyer of precious stones, challenging incumbent market leader Richemont. If Richemont does not take competition from Tiffany seriously, Cartier may no longer be the world's No.1 jeweler in a few years. Tiffany and Bulgari together could have Cartier for breakfast, lunch and dinner.