The creative dialogue between fashion and art takes on a whole new meaning with Elsa Schiaparelli. It was a raison d'être for the free-spirited couturière, famous for her audacious dresses and her "Shocking" perfume line. Paris' Musée des Arts Décoratifs pays homage to the designer in an exhibition called Shocking! The surreal world of Elsa Schiaparelli, a must-see that opened last month and runs until Jan. 22. 2023.

The exhibition is the first in two decades to showcase the designer in the French capital she called home. It brings together hundreds of illustrations, dresses and accessories by Schiaparelli herself, displayed alongside sculptures, jewelry, perfumes and photographs by Schiaparelli's friends and contemporaries: Man Ray, Salvador Dalí, Jean Cocteau, Meret Oppenheim and Elsa Triolet.

The show provides a walk through the fantastically stimulating and inventive epoch that was Paris in the 1920s and 1930s. Back then, the City of Light was the most welcoming place for creative souls who felt misunderstood and misjudged elsewhere. Through her dresses and accessories, Schiaparelli celebrated a new-found freedom which the Dadaists and Fauvists also expressed in their paintings at the time. In the mid-1930s, the designer met with surrealist painter Salvador Dali with whom she collaborated on many fashion projects. One of the centerpieces of the exhibition is the Lobster dress, one of Schiaparelli's most famous creations.

The crustacean was a Dali favorite. He painted his muse and wife Gala with one sitting atop her head like a hat. Gala, a socialite of Russian descent was previously married to French surrealist poet Paul Eluard. Dali famously took her away from him. Dali also created a phone with a lobster replacing the earpiece and produced several paintings of it. The Lobster dress was adopted by Wallis Simpson, the American divorcee who caused a scandal when King Edward VIII abdicated the English throne to marry her.

Schiaparelli had a knack for that eccentric accessory and detail that made her outfits stand out: buttons, gloves, hats, shoes, belts, pockets – they all had an unusual twist. The exhibition showcases her richly adorned buttons, made of glass or ceramics, and a vast collection of embroideries by Albert Lesage that helped make her dresses look so original and luxurious. (Lesage today belongs to Chanel.)
She introduced the famous "shoe hat," in the early 1930s designed by Dali. She also produced an impressive collection of gloves. At the exhibition, pairs of arms wearing her creations spring out vertically from a wall. One pair wears pastel pink gloves, tipped with nail-shaped black lace. Another wears velvet emerald green gloves puffed out along the arms forming what the designer called "balloon sleeves."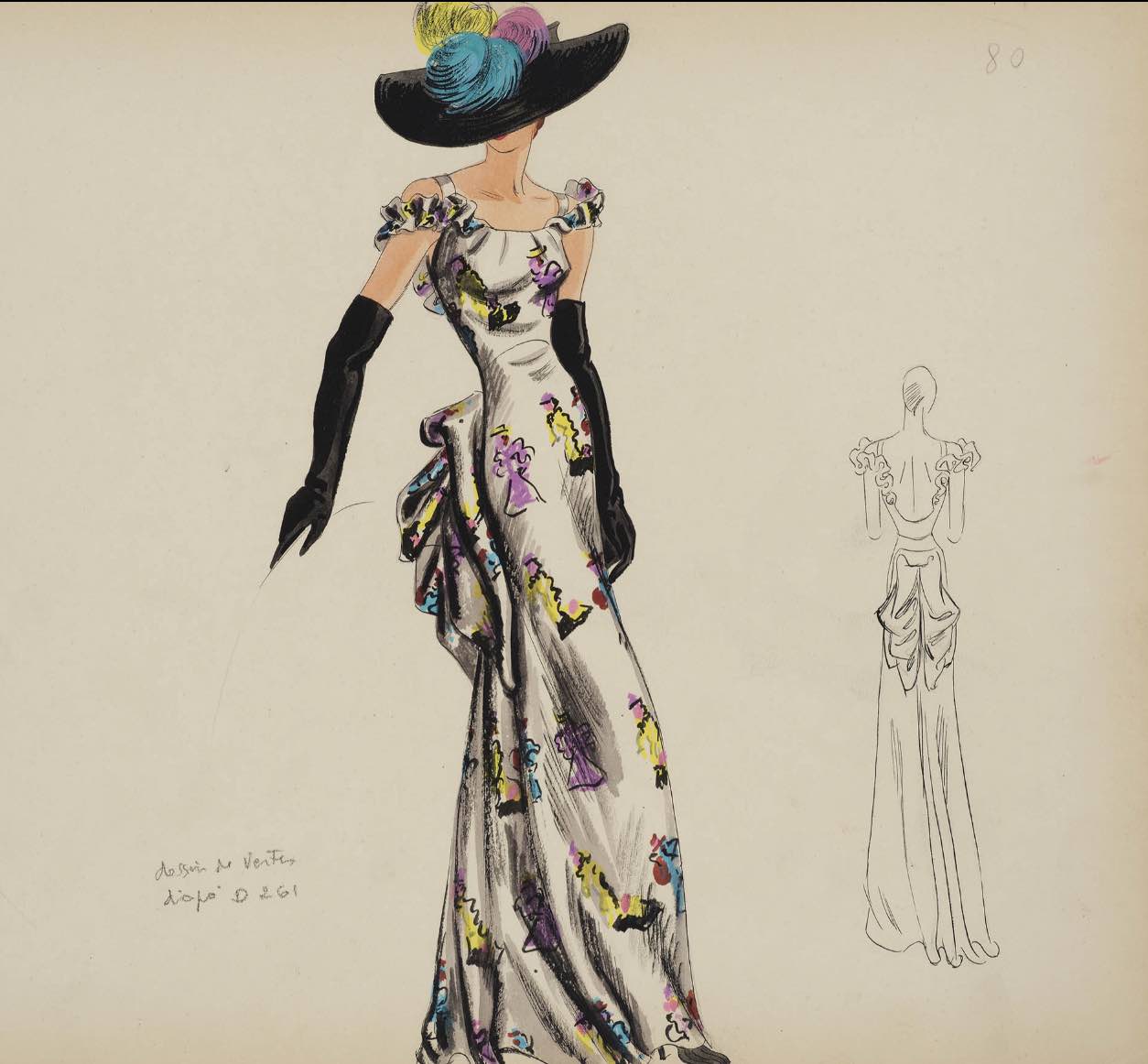 One of Schiaparelli's many illustrations that became dresses.

As they enter, visitors are greeted by an impressive array of Schiaparelli's drawings of outfits covering the entire wall and floor and reflected by mirrors on the ceiling. You would not believe that so many of them were turned into real outfits. But indeed, they were - like the skeleton dress inspired by Dali's love of 'outside bones.' And there is of course the suit with 'drawer pockets' that came from Dali's series of paintings with drawers coming out of heads, ankles, wombs and entire bodies. However, the surrealist painter was not the only source of inspiration for Schiaparelli.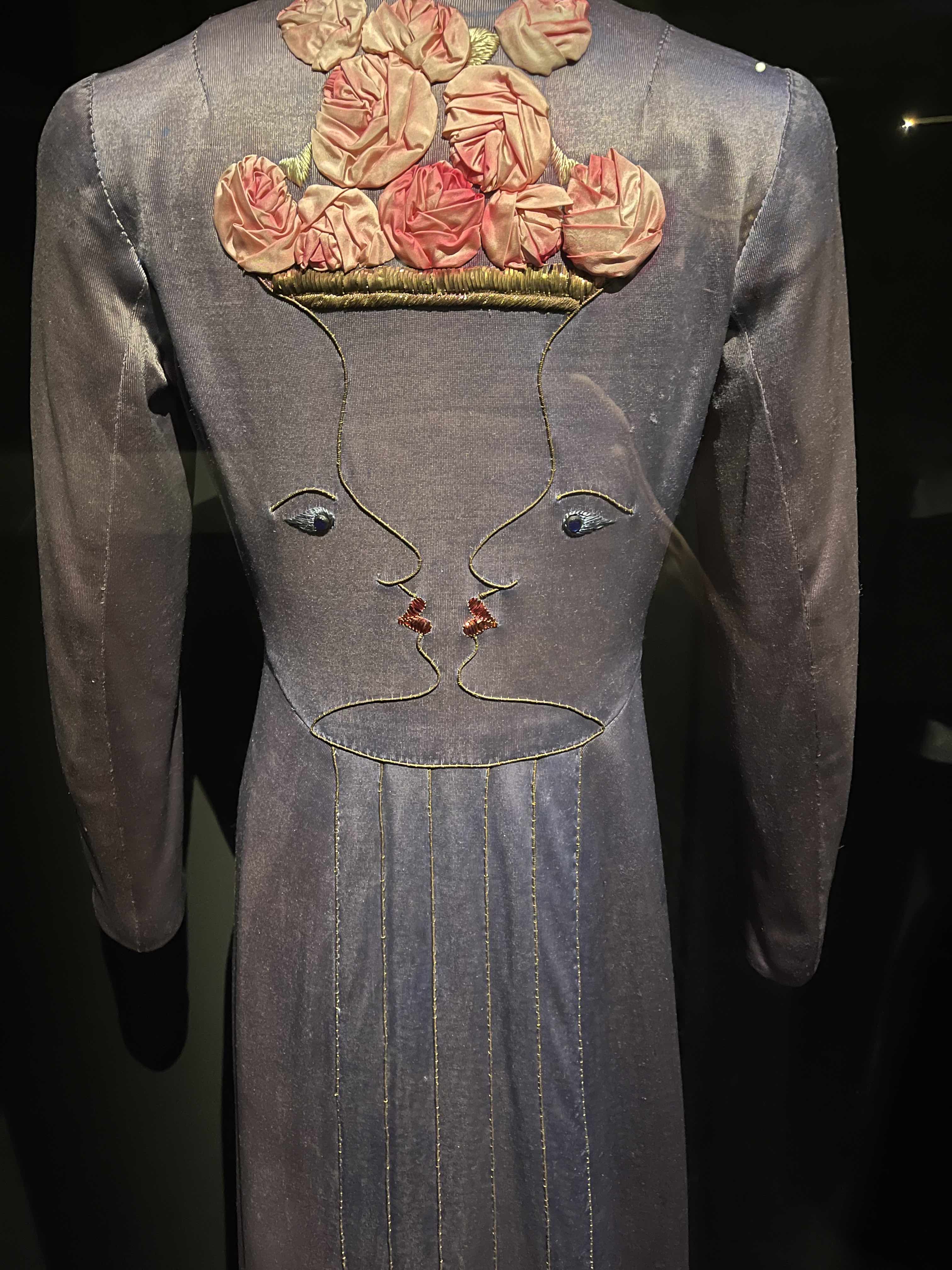 Coat inspired by one of Jean Cocteau's drawings.

Poet and film-maker Jean Cocteau gave two drawings to Elsa Schiaparelli, whom he considered to be "the most eccentric of designers." The couturière transferred the drawings to an evening coat and a suit jacket for her fall 1937 collection. The continuous line of the drawing embroidered onto the back of the coat gives the illusion of a double image: that of two faces in profile looking at each other, and that of a vase sitting on a fluted column, crowned by a bouquet of roses. The name Jean punctuated with a star was Cocteau's signature. In her memoirs, Schiaparelli calls Cocteau a surrealist but he refused to be designated as such. According to the French artist, his world was that of a waking dream, one that allowed you to pass through to the other side of the mirror as if by magic.
One of Schiaparelli's most copied inventions was the newspaper print. She created a collage of newspaper articles about her which she got printed on silk and cotton and produced scarves, hats and other accessories with it. At the exhibition, there is a photo of artist Josephine Baker holding in one hand a Schiaparelli's newspaper print scarf aboard the ocean liner Normandie. In 2000, designer John Galliano used her idea and the newspaper print became his brand's hallmark. Since then, many other brands copied the idea including Dior in 2020.
In the mid-1930s, Schiaparelli launched a series of perfumes. The most famous one was "Shocking," a heady mix of magnolia, patchouli, vetiver and musk. The bottle was a woman's bust shaped after American sex symbol Mae West with flowers in the place of a head and presented beneath a transparent cloche. Schiaparelli's perfumes would become her main source of income after her couture house was declared bankrupt in 1954. Banks were no longer ready to finance her losses and lend her more money. Her fantasy world and spare-no-expense fashion had become out of sync with the austere mood and Zeitgeist of self-restraint that reigned in Europe after World War II.

When Elsa Schiaparelli published her memoirs in 1954, she caused quite stir. She wrote candidly about what she thought of the state of the world back then and how it had changed over the years. In it, she talks about herself in the third person. One notable passage is this one as it helps us understand why she became a fashion designer: "When she was a child, Schiap was difficult. It has not changed. Since people kept telling her that she was ugly and her sister pretty, she ended up believing it and tried to find every way possible to make herself beautiful." (Shocking, souvenirs d'Elsa Schiaparelli, Denoël & d'ailleurs, 2022). From the pain of being constantly told that she was ugly an unstoppable drive to embellish herself was born. As a child, Schiaparelli tells the reader she tried to grow flowers on her face to hide herself. She planted grains in her throat, in her ears and in her nose and nearly suffocated because of it.

Ten years ago, Tod's Chairman Diego Della Valle relaunched the Schiaparelli brand which he aimed to develop into a demi-couture house, selling both ready-to-wear and one-of-a kind dresses. The Italian businessman bought the archives and name in 2006 and patiently waited for six years for the lease at 21 Place Vendome address, where Schiaparelli's atelier and boutique were originally located, to be free again. Schiaparelli rents out four floors, or 800 square meters, for the design, presentation, fit, manufacture and sales of its couture suits and dresses. Della Valle invested heavily in the refurbishing of each level even before selling a single piece.

The brand's plush salons, where meetings with clients and the press are held, are decorated with photos of Schiaparelli, Salvador Dali and Jean Cocteau drawings and Alberto Giacometti sculptures. Della Valle has never given a public account of his investment in the fashion house or whether it is profitable. But with such an expensive address and massive investments, it is difficult to see how Schiaparelli makes money today. The brand has been through several designers in ten years. It seems now to have found the right match with American designer Daniel Roseberry, in place since 2019. The brand has been going from strength to strength. At U.S. President Joe Biden's inauguration ceremony in January 2021, Lady Gaga sang the national anthem in a Schiaparelli dress.

Schiaparelli famously said: "Even though poverty-stricken I wouldn't take a fortune for my Picasso." Are owners of a contemporary era-Schiaparelli dress saying the same thing about their outfit? Whatever the answer today, the exhibition shows how lucky we are to have Schiaparelli's creative genius brought to life again for us to enjoy.

(Edited by RHS, photos by Astrid Wendlandt)