JULIEN GUERRIER, THE PUBLISHER WHO BUILT LOUIS VUITTON EDITIONS, HAS DIED
Julien Guerrier, a passionate editor who built Louis Vuitton's publishing house from scratch over 20 years and set a new trend by establishing Editions Louis Vuitton as the first ever publishing house of a luxury brand, died suddenly on Jan. 17. He was 46.

His death comes as he was just about to write an exciting new chapter. The entrepreneurial editor and talented writer quit Louis Vuitton last summer to launch and develop Editions 7L, a new publishing house for which Chanel harbors great ambitions.
The launch of a publishing house is part of Chanel's ambition to become a major player in cultural affairs. In 2021, Chanel acquired the 7L Parisian library, located 7 rue de Lille, and the private book collection that belonged to Karl Lagerfeld, the late superstar designer who was an ardent bibliophile, Miss Tweed reported. Guerrier was still finalizing its strategy when he died. His passing forces Chanel to put that project on pause until it finds a replacement.
"It is with deep sadness that Chanel learned of the death of Julien Guerrier. Julien had joined Chanel in September 2022 to lead the 7L publishing house," Chanel said in a statement e-mailed to Miss Tweed. "Luminous and sensitive, Julien was an immense publishing professional, admired and respected by the industry and loved by his teams. All our thoughts are with his family and friends."
Guerrier, whose mop of dark hair and heavy spectacles recalled a French literature professor more than a luxury executive, was a quiet innovator in the luxury industry where he started as an intern at LVMH more than two decades ago. His love of travel, culture and beauty and an inspiring personal charisma achieved the rare feat of turning an outsider publisher, Editions Louis Vuitton, into a respected pillar of the closed, haughty world of the Parisian publishing establishment.
Its portfolio of more than 150 titles covered chic city guides, travel books and photography. It led the way for a new trend among other luxury houses to make links with literature to strengthen their cultural reach and influence. Such endeavour would allow LVMH's controlling shareholder and boss, and the world's richest man and arbiter of global taste, Bernard Arnault, to famously to state last year Louis Vuitton did not sell handbags: "It sells culture," he said.
Luxury fashion companies are in the race to make literature, photography and art part of their brand-building exercise. Chanel has recently hired specialists to forge closer ties with the art world and launched many initiatives. It has signed partnerships with museums such as Centre Pompidou in Paris, The National Portrait Gallery in London and Power Station of Art in Shanghai. It has also launched a prize called Next, individual awards of €100,000 to ten artists in music, dance, performance and visual arts who are redefining their fields.
Louis Vuitton and Chanel are not the only fashion houses to have stepped up investment in publishing. Other brands including Hermès, Prada, Dior, Prada and Valentino have built ties with the literary world to strengthen their soft power, as Miss Tweed reported a year ago. It makes them look more intellectual, sophisticated and in tune with the Zeitgeist. Over the past 10 years, there has been a surge in the number of coffee-table books on fashion brands. Dior publishes several a year.
The history of luxury brands sponsoring publishing houses is a long one. The Wertheimer family, who own Chanel, once held the prestigious French publishing house La Martinière. The Pinault family, who control Kering group and Gucci, own publisher Tallandier, which specializes in history books and essays. Richard Mille owns Éditions Cercle d'Art, which published a book on the luxury watchmaker in 2006.
Louis Vuitton's parent LVMH has also been expanding its press and publishing empire.In 2020, the French group acquired the art book specialist Citadelles & Mazenod for an undisclosed sum. Founded in 1936, the Paris-based publisher sells some of the market's most expensive books, which range from a €245 volume on Modigliani to a €890 limited edition on Aztec civilization.
In 1998, Julien Guerrier, an intern at Louis Vuitton's museum in Asnières who went on to run the brand's internal communications,suggested to Yves Carcelle, then Louis Vuitton's charismatic boss, the group should have its own publishing house and become a major player in the French publishing scene.Carcelle thought such initiative would helpthe leather goods maker become a "lifestyle" brand and strengthen its storytelling around travel. Over the years, it gave LVMH a human personality and warmth it could not have acquired in any other way.
At first, Guerrier launched the City Guides, beautiful small-size books that provide tips on what to see and enjoy in every major city in the world from Paris, to Tokyo, Moscow and Milan. It also gives insights into what local customs are and what to do at certain times of the day. More than 10 years ago, Guerrier forged a partnership between Louis Vuitton's City Guides and Tendance Floue, a French collective of photographers whose work he has long admired and followed.
"It was luxury working with Julien," said Greg Eloy, a photographer member of the collective who worked with Guerrier for many years. "He was very human, accessible and loyal."
Guerrier also published numerous Travel Books, or artists' notebooks on regions such as the Arctic, Saint Petersburg and New York. Later, he also launched a collection called Fashion Eye, celebrating the archival work of individual photographers such as Helmut Newton and Guy Bourdin. He had a talent for organizing pop-up bookshops in art and photo fairs, such as Paris Photo. He also set up a Louis Vuitton pop-up in places such as Shanghai, Naples and Arles in the south of France.
Louis Vuitton books are distributed via the brand's more than 400 boutiques worldwide and by a handful of independent bookstores. Since 2013, Louis Vuitton's books have been distributed in France by Harmonia Mundi – the brand's only third-party distributor, since its retail is 100% in-house.
The most recent Travel Book Guerrier was particularly proud of was the one he did in 2021 with Belgian cartoonist François Schuiten and award-winning French writer Sylvain Tesson. It told a poetic story about two space travelers exploring Mars. The book Mars was launched in Nov. 2021 and was a huge commercial success. It received a lot of media coverage and Louis Vuitton sold tens of thousands of copies.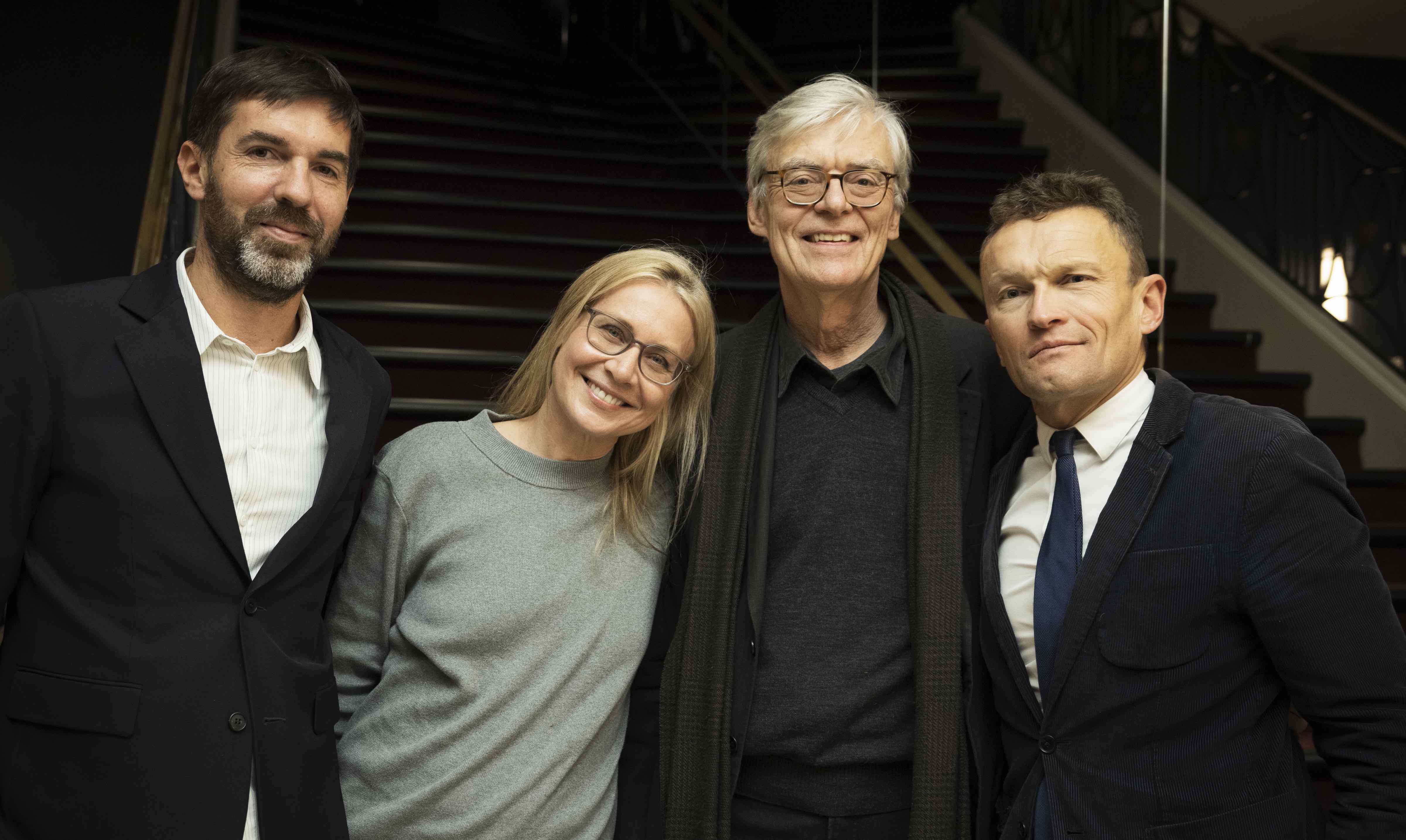 From left to right: Julien Guerrier, Astrid Wendlandt, François Schuiten and Sylvain Tesson at the launch of Travel Book Mars at Paris Marigny theater in Paris in Nov. 2021.

Schuiten was shocked to hear of Guerrier's passing. "I cannot believe it," he told Miss Tweed. "He was a very open-minded person, willing to take risks, without preconceived ideas. I had never felt that with a publisher." Schuiten sensed Guerrier suffered at Louis Vuitton. "He didn't say it, of course, but you could sense that he felt under-appreciated and his ideas remained under the brand's radar screen." Schuiten described luxury brands as "harsh commercial and marketing machines" that were not always adapted to the publishing world which had a softer, more gentle ethos.
Antoine Arnault, who worked with Julien Guerrier at Louis Vuitton's communications department, was another big fan of his work. Arnault, who is CEO of Berluti, President of the LVMH's mothership Dior SE and in charge of the group's image and communications, was saddened by Guerrier's death.
"The world of luxury, and more particularly the world of publishing, will remember a sensitive, creative and above all extremely talented man," Arnault told Miss Tweed in an e-mailed statement. "Julien Guerrier produced unforgettable publications for Louis Vuitton for more than 20 years, from travel guides to collections of poetry and literature, the list is too long. An illustrious reference for future generations."
Many of his colleagues at Louis Vuitton regretted his departure. Internally, some criticized the brand's leadership for not having made more effort to prevent him from joining a competitor to launch a rival publishing house. "I am amazed that they did not see what a brilliant person he was and did nothing to stop him from leaving," one senior LVMH manager told Miss Tweed on condition of anonymity.
Louis Vuitton issued the following statement: "We are devastated to learn of the passing of Julien Guerrier. Julien was a talented colleague and the driving force behind the success of the Editions Louis Vuitton. His traveling collections, as he liked to define them, included collaborations with some of the most renowned names in the world of literature and visual arts. These areas of expression were very dear to him, in particular drawing and photography."
Louis Vuitton in a statement said Guerrier's "optimism, his smile, his playfulness and his good nature marked all the people who had the privilege of meeting him throughout his more than twenty years within the Maison. Our deepest sympathies and condolences go out to his family and friends during this difficult time."
It took Louis Vuitton more than six months to find a replacement for Guerrier. In December, it appointed as head of Louis Vuitton publishing Axelle Thomas, who was "content and creative Manager" at LVMH and has done photography herself.
Here at Miss Tweed, we would like to add our sadness at his passing, and thanks for his life. Julien Guerrier will be very much missed. His burial will be held at the crematorium of Paris' Père Lachaise cemetery at 10am on Saturday Jan. 28.
(Edited by RHS)